Brooklands Bridge - A6 Broughton Bypass
Preston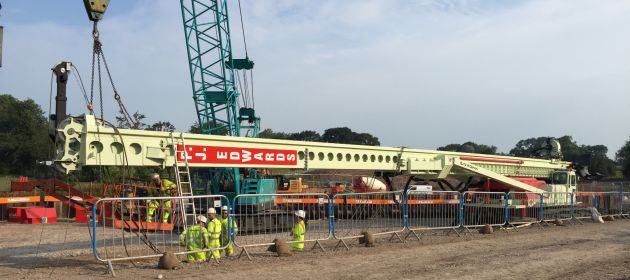 Following its delivery our new largest piling rig, the massive Llamada P240TT, was immediately put to work on this demanding project near Preston.
The work involved the installation of piled foundations to the new Brooklands Bridge over the Blundel Brook which formed part of the new A6 Broughton Bypass.
The piling areas were protected from flooding by sheet piled cofferdams.
A total of 54no 900mm diameter Continuous Flight Auger piles were installed through 26.0m of stiff clays & dense gravels followed by a demanding 3.0m rock socket in the underlying weak to medium strong sandstone.
The P240TT piling rig weighs in at 107 tonnes and has a mast height of up to 45.5m. Its effective torque of 42.3 TM led it to be the ideal choice for the installation of the 900mm CFA augers through these materials. Its depth capacity of 41.0m pushes our CFA capacity still further.
Pile reinforcement consisted of 7B32 and 7B16 main bars alternating with each other in a single length cage of 15.6m. These were inserted after concreting with the aid of a cage vibrator.