Avonmouth Resource Recovery Centre (RRC)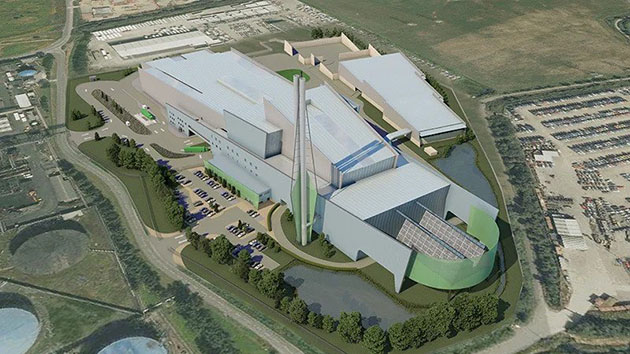 Construction of the £252 million Resource Recovery Centre (RRC) began work in summer 2017 with P J Edwards & Co (UK) Ltd being one of the first contractors on site to commence foundation work for the new facility.
Once operational the centre will be able to safely and sustainably divert around 320,000 tonnes of non-recyclable waste away from landfill. In doing this the Energy Recovery Facility (ERF) will also generate up to 282 GWh of electricity which will not only provide power for the plant itself, but also produce enough excess power to supply the equivalent of 77,280 homes.
P J Edwards & Co (UK) Ltd have a proven track record on these type of projects with Avonmouth RRC being the eighth renewable energy scheme that the company has been involved in during the last five years. As with previous Energy From Waste (EFW) projects, P J Edwards concentrated on installation of the piled retention system to allow construction of the waste bunker which is commonly programme critical to the main contractor.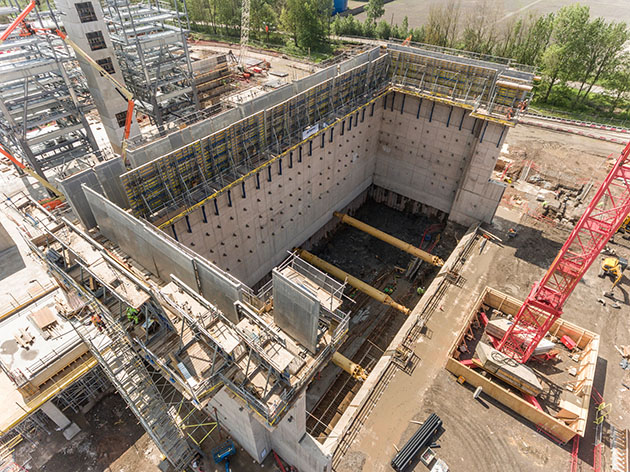 On Avonmouth the waste bunker incorporated the use of a large diameter piled secant wall box which was to be excavated in very challenging ground conditions. The waste bunker had a plan dimension of 50m by 25m, and a required excavation depth of just over 14m. In order to facilitate maximum access for excavation, whilst also allowing top down construction, the box system was designed with just one level of internal propping located at mid dig level. Additional support at ground level was also provided by a bespoke external piled RC slab which would form a diaphragm around the perimeter of the secant wall box and hence act as a prop.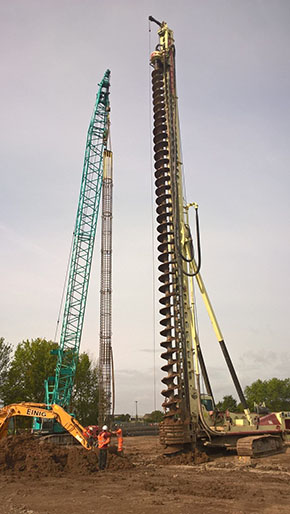 All piling works were installed using CFA techniques, undertaken by heavy duty Llamada piling rigs with rotary torque capacities up to 35 tm.
The use of a CFA technique allowed the works to be delivered on budget, and ahead of time.
Due to the heavy forces experienced by the secant wall, the secondary wall piles were heavily reinforced and more importantly were required to be installed to the full depth of the piles.
This requirement led to the installation of reinforcing cages up to 23m in a single prefabricated length.