Terminal 2
Dublin Airport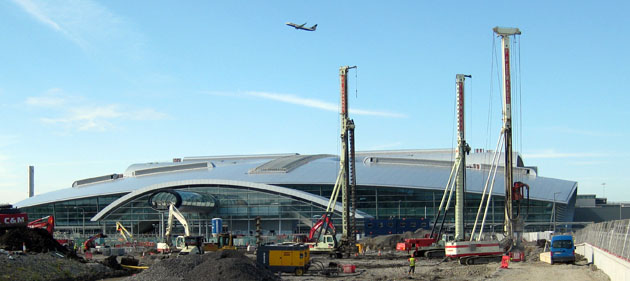 Over the last few years Dublin Airport has had a number of modifications and extensions to Terminal 1. The new Terminal 2 with its estimated cost of €395m is set to increase the passenger handling capacity by 15 million people a year.
It will become the home of Aer Lingus, American Airlines, Continental Airlines, Delta Airlines, Etihad Airways and US Airways.
The new terminal which opened in 2010 is a very modern and impressive gateway for airline passengers into and out of Dublin. At its peak, Terminal 2 was the largest construction project in the state, and employed up to 2,600 workers on site. During 3 years of construction more than 10,400 men and women were involved in the project and more than 1,000 new jobs have been created.
We were awarded the piling subcontract to provide foundation bearing piles for the adjoining Terminal 2 car park. The work comprised the installation of 342 No Odex / CFA piles with diameters of 640 and 900mm. The piles were rock socketed to give safe working loads of 2,500 to 4,125 kN.