Berth 50 Extension
Dublin Port Dublin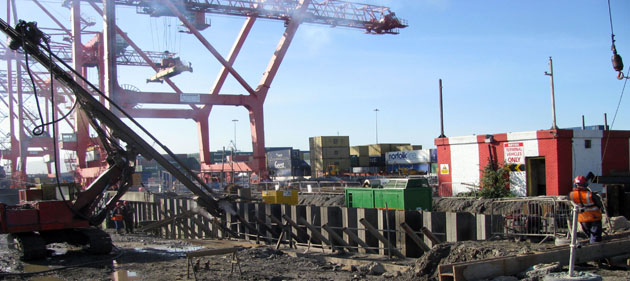 Dublin Port Company prepared and published a master plan to guide the development of Dublin Port in the period up to 2040.
The plan presents a vision for future operations at the Port and critically examines how the existing land use at Dublin Port can be optimised for merchandise trade purposes. The plan, which has been prepared following extensive engagement with stakeholders, also outlines how Dublin Port Company will work to better integrate the Port with the City and its people. The plan has been prepared by Dublin Port Company in order to:
Plan for future sustainable growth and changes in facilitating seaborne trade in goods and passenger movements to and from Ireland and the Dublin Region in particular.
Provide an overall context for future investment decisions.
Reflect and provide for current national and regional guidelines and initiatives.
Ensure there is harmony and synergy between the plans for the Port and those for the Dublin Docklands Area, Dublin City and neighbouring counties within the Dublin Region.
Give some certainty to customers about how the Port will develop in the future to meet their requirements.
The plan addresses the key issues around the future development of the Port by reference to developments in merchandise trade and key sectors of the economy.
It also examines the existing land utilisation at Dublin Port and suggests some options for future development at the Port which will facilitate the Port handling 60m tonnes by 2040.
The works carried out were in accordance with the Dublin Port master plan and comprised a landward extension of the existing Berth 50 within Dublin Port to create 50 metres of additional berthing capacity within a load-on, load-off container handling/shipping facility.
Our sub-contract with BAM was to install 58 No 40 metre long permanent double corrosion protected rock anchors with working loads up to 1,200kN.