A6 to Manchester Airport Relief Road
Bridges B014 & B015 Manchester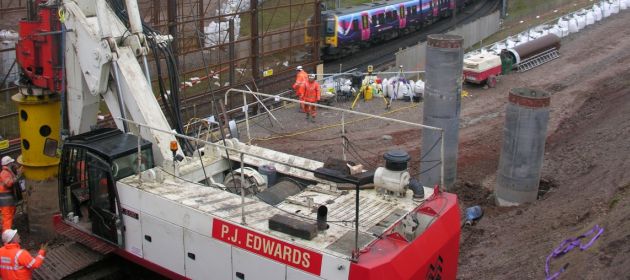 The A6 to Manchester Airport Relief Road Scheme will provide a new, approximately 10km long, dual carriageway with new sections of road built from the A6 at Hazel grove to the eastern end of the existing A555 at Wilmslow Road, Handforth to Manchester Airport and the spur road to the M56.
The scheme involves the construction of approximately 13 bridge structures and 17 retaining walls. Four of the bridge structures will cross railway lines.
The adjacent bridges B014 and B015 were located on Styal Road (B5166) immediately east of Manchester Airport.
The new works allow for the widening of the existing bridge on Styal Road to incorporate the new relief road. The bridge crosses two converging railway lines to the airport, one from Manchester in the north, and one from Wilmslow in the south.
Using piling rigs of various sizes a total of 57 piles were installed using rotary techniques with diameters of 900mm and depths of up to 19.6m below ground level. The piles were drilled through made ground, firm gravelly clays and founded into medium strong mudstones and siltstones. The piles were reinforced full length with up to 14B32 main bars.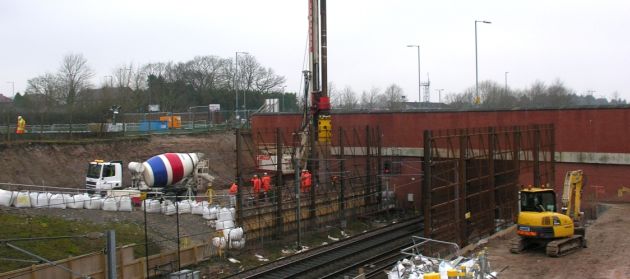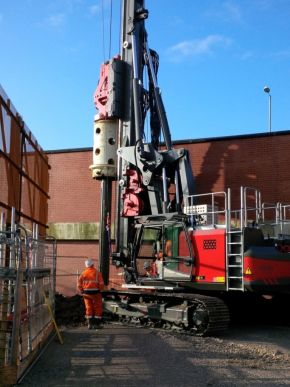 Safe systems of work were developed for working in close proximity to the live railways behind safety screens and avoided the need for any expensive and timely railway possession work. The screens were supported on piled king posts installed by ourselves in an earlier visit to site using a low headroom Tescar piling rig.
A Delmag RH18/200 shown opposite was used where working space was minimal.