Spencer Dock Redevelopment
Dublin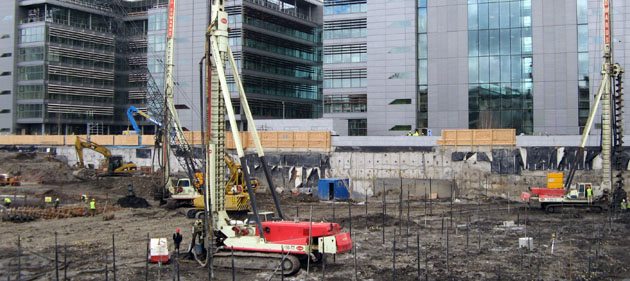 Before its current urban regeneration Spencer Dock was a 51 acre brownfield site located on the north side of the Dublin Docklands.
The site was developed by its owners, the Spencer Dock Development Company (SDDC) who, along with the Dublin Docklands Development Authority, aimed to transform the Dublin Docklands into a world class city quarter.
P J Edwards were very privileged to be involved in many of the building projects on the site which included residential blocks (RSTUV), commercial buildings (Block C) and the very striking National Convention Centre which opened in late 2010.
Our works on the site included secant piling on Block C and the National Convention Centre (known to Dubliners as "the Tube in the Cube"), including capping beams and tie-back anchors, and bearing piles on the above sites and Blocks RSTUV.
On Blocks RSTUV piling outputs were the biggest ever achieved by this company with 350 to 500 cubic metres of concrete being placed each day.
National Convention Centre
After forty months of development and construction, and over a decade of planning wrangles and debate, Ireland's first purpose-built conference centre opened. Announced as the world's first carbon neutral convention centre, it is the first Irish building designed by Pritzker Prize-Winning and Irish born architect Kevin Roche.
The Convention Centre Dublin features a unique glass atrium, which encompasses the full height of the building and offers visitors on opportunity to experience Dublin with extensive views across the skyline, bay and Dublin Mountains. The building in configured to accommodate conferences from 8 to 8,000 participants in 22 purpose-built meeting rooms. It includes a 2,000 seat auditorium, 4,500 square metres of exhibition space and banqueting facilities for up to 5,000 guests.
The centre combines flexible and elegant conference halls and meeting spaces with an extensive range of support services. The Convention Centre Dublin announced it is the first carbon neutral international convention centre as the net impact of the building's construction on the environment is zero. This landmark can be considered carbon neutral due to the use of low carbon cement throughout the building and through offsetting all unavoidable carbon emissions by investing in carbon credits in accordance with the Voluntary Carbon Standards (VCS).
In summary the works on site included the following...
1. 1,009 No 900mm diameter secant piles 14 to 19m deep
2. 2,680 No 600, 900, 1050 & 1200mm diameter bearing piles 10 to 17m deep
3. 67 No 900mm diameter contiguous wall piles 11m deep
4. 26 No 119mm TRM ductile cast iron piles
5. 545 metres of guide wall
6. 281 metres of capping & waling beams
7. 229 No temporary & permanent ground anchors
For further photos relating to this contract, download the complete case study PDF.