2019 - The business strategy to be market leaders in large diameter CFA work continues
P J Edwards has continued it's strategy to lead the market in large diameter CFA work with the purchase of yet another heavy duty high torque piling rig during 2019.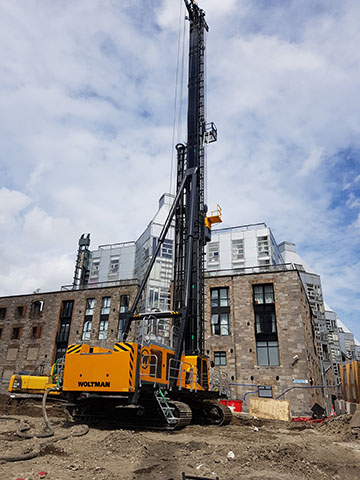 The addition of the new Woltman 90DR piling rig to the fleet strengthens the company's ability to not only install large diameter, and deep, CFA piles in hard drilling conditions, but also extends the inhouse scope to drill large diameter piles in extremely hard ground conditions using the down the hole hammer (DTHH) technique.
The Woltman 90DR has an impressive specification weighing in at 100 tons combined with a 45 ton/m rotary table. In terms of CFA work the rig has the ability to drill diameters up to 1500mm and depths up to 35m.
The rig is also powered by a modern CAT engine which complies with latest inner city emissions regulations.
Since arrival of the rig at P J Edwards in the summer of 2019, it has been fully employed on jobsites in and around the Dublin area proving itself in the delivery of high profile geotechnical foundation packages.