2014 - A Very Successful Year
In our last newsletter we were able to report that our business had got off to a flying start in 2014. Whilst we hoped this would not be short lived, we could not have envisaged the continued growth that our UK business would achieve during the rest of the year.
Throughout 2014 our rigs continued to work on contracts located in all parts of the UK.
In the South West, we enjoyed repeat business with existing clients working in both Taunton and Bristol. In Taunton CFA piles were installed for the Taunton Northern Inner Distributor Road. Whilst in Bristol 900mm diameter rotary piles were drilled for the Green Access Bridge either side of the River Avon close to the Temple Meads railway station.
In London, a large diameter CFA contract at Tidal Basin Road in London's Docklands came to a satisfactory completion with the installation of over 400no 600mm and 900mm diameter piles to depths up to 30.0m together with a substantial sheet piled retaining wall.
In Croydon, a demanding contract for Network Rail was delivered in a safe and timely fashion, again for an existing client, to enable a new bridge to be slid into position over operational railway lines on programme.
In the North East, work was carried out on the A1 Trunk Road Leeming to Barton Section where 900mm diameter piles were installed for the widening of the Agricola Bridge over the River Swale.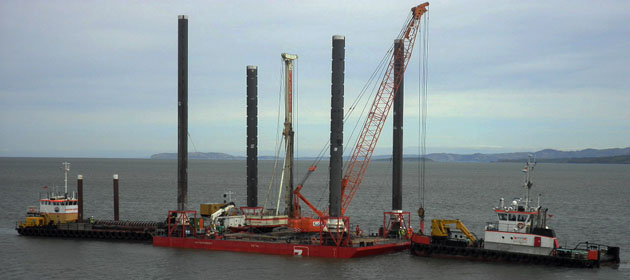 In the North West we found ourselves working on a barge off the Anglesey coast installing tubular piles. Percussive hammer techniques were used to install the piles for the new Moelfre Lifeboat Station.
The total value of work secured during 2014 exceeded a very exciting £11m. This was an encouraging result for our ever increasing and committed team of geotechnical engineers, piling crews and support staff.
2015 - A Promising Start
We also now start 2015 with an excellent order book.
We look forward to working with Carillion again on yet another phase of the Kings Cross Redevelopment known as the Triplets contract. We start with a preliminary trial pile tested to 1,000 tonnes and continue with over 300no 600mm to 1050mm diameter bored piles.
In east London we shall also be installing over 300no 600mm diameter piles for a new hotel in Hackney. The piles form a contiguous bored pile retaining wall that has to negotiate its way around the perimeter of the site avoiding the presence of existing piles.