2 Arena Central - Project Peach
Broad Street Brimingham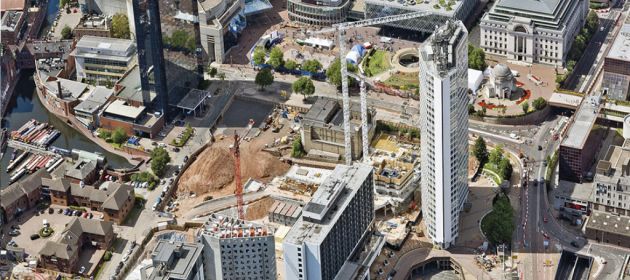 The new 2 Arena Central development, located opposite the Library of Birmingham and next to Alpha Tower on Broad Street, Birmingham, will have grade A office accommodation and a ground floor retail or restaurant space across 210,000 sq ft. It will be a new major home for the HSBC banking group.
Our foundation package comprised the following…
155no 600mm diameter continuous flight auger piles with depths of up to 13.35m below ground level. These were installed as contiguous retaining walls around the site to support basement excavations.
67no 600mm diameter rotary bored piles with depths of up to 23.5m below ground level. These were installed as vertical bearing piles to the new structure and as supports to two tower crane bases. The majority of these piles were located immediately adjacent to an existing underground rail tunnel. To avoid load transfer these piles were constructed with a slip coated permanent casing up to 16.45m in length. The lengths of the casings were dictated by a line of influence drawn at an angle of 45 degrees from the underside of the tunnel.
All piles were founded with varying penetrations into the underlying Bromsgrove Sandstone Formation. This was overlaid by made ground materials and glaciofluvial deposits.
The existing rail tunnel was extremely sensitive to movement and this led to a strict programme of ground movement monitoring being put in place during the installation of the piles. It was also deemed necessary to install all bearing piles during night possession periods to minimise the potential impact of our works to the tunnel. The photographs below show the drilling and permanent slip coated casing installation in progress.